HVAC / Absorption Cooling
Industrial Ventilation, Filtration
AIR TECHNIC implements conceptual designs, project documentation and technology:
Flue gas filtration from solid particles produced by biomass boilers (wood chips, straw):

High-temperature filtration by HF filters with ceramic elements (media temp. up to 650° C)
Bag filters with chamber for extinguishing the hot particles (media temp. up to 160° C)
Electrostatic precipitators

Cleaning of gases (waste air) produced in power plants and in the building materials industry (cement plants, lime manufactoring, ceramic manufacturing and woodworking technologies).
High Temp/Hot Gas Filtration with Ceramic Fibre Elements
HF filters are designed to filtering of solids particles from media up to 650 ° C. The filter material is alumino-silicate fiber ceramic element, filtration class EU 10 and a temperature resistance 900° C. The HF filter is equipped with pulsed regeneration of ceramic elements by compressed nitrogen. The dusts are extracted from the HF filter gravitationally through a system of flaps that separate the inner and outer pressure of the filter.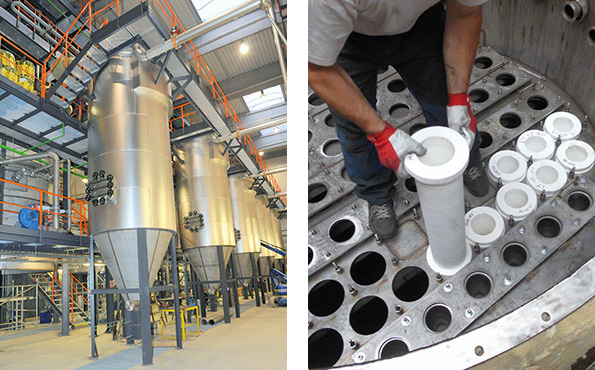 Ventilation
AIR TECHNIC provides complex implementation of technical equipment for administrative buildings, shopping centers, healthcare facilities specializing in clean rooms, printer technologies, industrial buildings, etc. These are deliveries and assemblies of ventilation and air-conditioning systems, incl. related professions – cooling, heating, I&C systems.
Cooling, Aircondition, Absorption Cooling
AIR TECHNIC designs and supplies cooling systems. As a source of cold is used:
Absorption cooling up to a cooling capacity of 5 MW
Compressor cooling
We specialize in the installation of absorption cooling. It is beneficial where waste heat is available, resulting in significant savings in operating costs. AIR TECHNIC consults assessing the economy of operation for each type of cooling.
Heating
AIR TECHNIC designs and supplies heating systems and provides activities related to heating systems:
Gas boiler rooms
Heat exchanger stations
Heat pumps
Piping – steel, stainless steel, copper and plastic